20 Cool Things to 3D Print in 2018
Got your printing gear ready and waiting for the next idea to strike? Look no further, for this time around we're talking all things 3D printing and 2017. Dive in straight into the list and let us know what you ended up printing:
Spice Shakers
Spice shakers, or salt and pepper shakers are conveniently small and hollow when it comes to 3D printing and hence save time as well as material with the final print. Small hollow dots in the form of "20"& "17" would make a perfect gift or table piece.
Wrist-Bands
Each year is comprised of 365 days, 365 1/4 to be exact. 2017 * 365.25 equals 736709.25, hence a cool idea for a wrist band would be the string "736709.25 A.D." 3D printing in whichever material you prefer, strung from end to end for your friend or yourself. Other ideas can be of the number of months in 2017 years, the number of total years minus leap years, or even the exact number of days of your age when your birthday comes around in 2017.
Soap Dish
It's useful items like these that make consumer level 3D printing the thing of the true revolutionary potential. A soap dish or other holding dish can be printed with relative ease. It can be deigned and modeled with the same ease of downloading an already drawn cuboid with some fancy patterns filling the tray's bottom for the soap to remain above the collected water. The tray's bottom can be a stencil of the string "2017".
Knives/Handles
No, we don't support violence, because we're talking about kitchen knives. Actually butter knives. Because to achieve the strength of a steel blade might not be the problem, as will be the sharpness required to cut meat or bread. But either ways, even if your knives are usable, I have mostly had problems with the handles where the knives have not been screwed in place. With 3D printing, you can easily design the handle with specific parts already available in your local market.
Card Case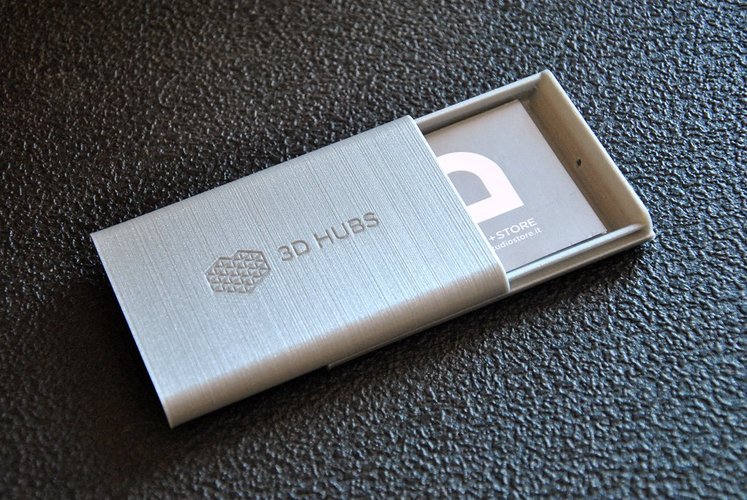 A hand is only as good as the player, but the desk of cards can be given an uplift simply by packing them in a stylish case when the game is over. Design one for yourself or look for matching ideas/models online and print a case that will make your friends want you to remember them on their birthdays. And yes, it works for business cards too.
Letter Holder
3D print "2017" for two adjacent sides connected together at the bottom leaving a bit of space in between for holding letters. The printed letters should be tall enough for them to be able to hold letters, meaning about 4-5″ in height should do it. Organize your desk or your home by having all the letters and paperwork in one place.
Dice
Designing and printing may not get any easier and comforting than printing out gaming dice. Print out as many as you want where a number of options are possible. Hollow out the dice and number of dots on each face for an extra gimmick or perhaps just to challenge yourself. If you do hollow it out, try adding jingles to them for fun.
Home Improvement Parts
Small parts for doors such as sliding bolts or entire door knobs can be downloaded from the internet and then printed for instant use in your door or other accessory or piece of hardware. Even if this is not something that you might find yourself doing, 3D printing spare keys can never be a bad idea.
Custom Design Water Carrier
If you can draw it, you can print it, because a personal water bottle (hollow cylinder) won't go much further than 1 liter in capacity and that is usually the limit for desktop 3D printer volumes. Transparent bottles are a possibility with the appropriate resin and multiple colors are also possible, even with Fused Disposition Molding.
Keyboard Keys
Are your keyboard's keys broken or have they simply faded away. No matter what type of keys you have, the design will be available online, and the necessary hardware sitting underneath will almost always be in a usable condition. Print the new keys and stick them in for a fresh new feel of typing.
Wall Sockets
Did your wall socket panel burn out? Or did the short circuit fuse the wires together and jumbled up all the rubber and metal? No matter which is the case, these mostly-plastic, small sized parts are available on the internet for download and can be printed with very little effort. Forget about going to the local hardware store when you only need a single piece.
Cutlery
If you haven't all ready done this, then what are you waiting for? No matter how large you want your set to be, every single piece can literally be printed in one average sized commercially available 3D printer. Ever wondered who designed the 3 pronged fork? Doesn't matter, because now you can print your very own 6 pronged fork at the press of a button.
Meds-keeper
If you need your meds or other small sized assortments organized, then look no further than your computer screen. Weekly, monthly or any period of choice can be put into a design with your favorite motivational quote printed on it to push you each time your about to skip a prescription.
Tool Set
What better way to spend all that resin/filament, then to turn it into something reusable? Download a screwdriver set and print out your very own version for all those times they are nowhere to be found.
Wires
With the latest in filament technology, printing your own circuit board is not a dream, it's a practice among the hobbyists. But for us, less technical mortals, printing your own wires is an unprecedented blessing. The material is available and schematics for wires are the simplest specifications you'll find on the planet.
Spare Car Parts
No, you can't print the whole drive train but you can print new door handles or window winder jacks. Even if you've lost the nuts or bolts found on any equipment, types of filament or resin can actually produce parts of such hardness, appropriate for such intense scenarios.
Mouse
Yes, the computer mouse. And no its not a crazy idea, because you can get the internal hardware from a regular mouse and design a mouse housing custom to your hand's contours. Take the technology out of a branded mouse, and you'll have your very own, custom designed gaming mouse within a couple of hours or printing and assembling.
Petree Dish
If it's your mom's birthday (or your wife's if you're married), a Petree dish can be an excellent gift for the lady of the house. Custom designing and printing is all it will take for her to smile like the luckiest woman on the face of the earth, perhaps getting you some extra credit for putting in the hard work.
Cloth Pins and Hangers
Except for a metal spring (which should probably be bought at the store), these items are not more than two pieces each; the hangers, just one. Print them out instead of buying them at the store to save the trip and claim bragging rights.
Glass Breaker
If your car doesn't already have one, you can easily print one for those emergency situations that we'd rather not think about. The truth is, these little nifty devices can save a life and printing one will never be a waste of filament/resin.
Conclusion
All of these things can be 3D printed, because all the materials needed are available as filaments and resins. Following this, remember you can always upload your models to Shapeways, who'll provide pricing as well as technical details of whether your models are optimized for printing. Lastly, have fun printing and don't forget to tell us about your printing experiences.